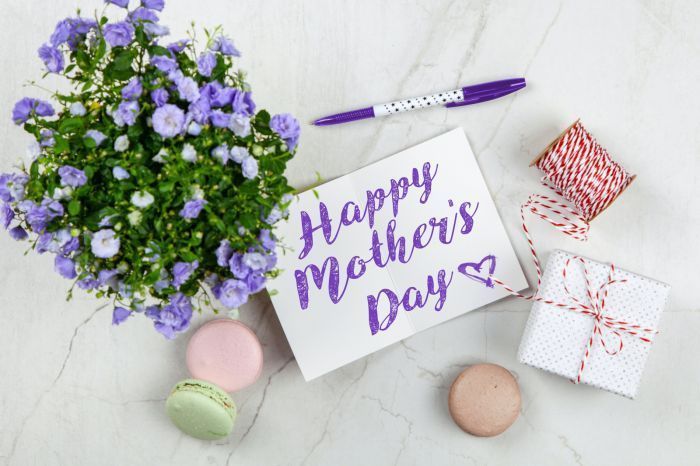 (credit: Giftpundits.com)
Moms have been a busy bunch this past year, juggling their busy work and home life all from their own homes. So, this year more than any other, take a minute to honor your mom and say thanks with something special (and pricey) for all of the hard work that she does. Falling on Sunday, May, 9 this year, there is still time to get mom that unique gift that will make her feel appreciated. This list of gifts will move you up the ladder of the pecking order of her favorite child and will make her surely feel the love. In no particular order but encompassing a wide range of gifts, take a peek at these 24 luxury gifts that mom will surely be thankful for.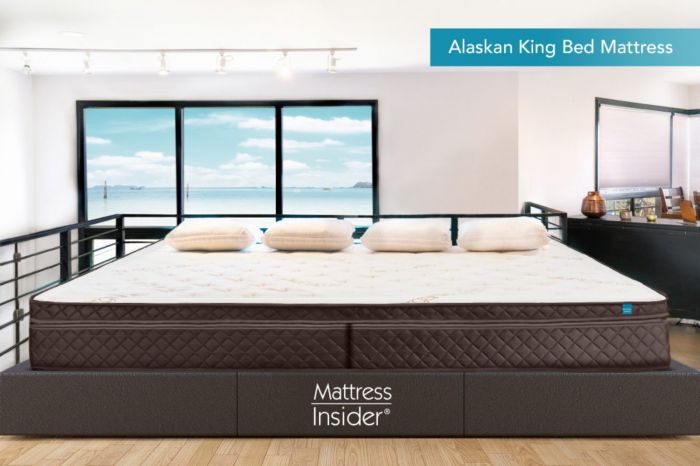 (credit: MattressInsider.com)
Alaskan King Bed
Give the gift of ultimate comfort and relaxation with the Alaskan King Bed (starting price $3,999.00) the largest standard mattress size that can be ordered. Measuring at 9ft X 9ft, the Alaskan King Bed is made byMattressInsider.com who has specialized in hand-made residential mattresses as well as custom mattress sizes and shapes since 2008. With a total height of 13.5", the mattress features three support layers and four comfort topping layers, with the two at the top encased in organic cotton. While most mattresses even close to this size have one firmness option, this mattress allows the user to adjust the feel by flipping or removing mattress layers. Their patent pending 'Zip in Place' system makes it so layers don't shift and no re-alignment is needed and is made with only the highest quality materials and is CertiPUR Certified.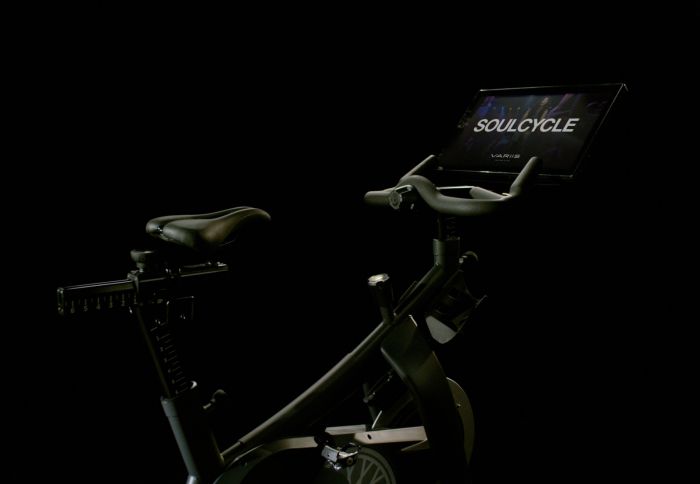 (credit: Equinox Media)
SoulCycle at-home bike
Whether your mom is an avid cyclist, a cycling junkie or always looking for the next best gym, the SoulCycle at-home bike ($2,500 with a $39.99/month subscription) is right up her alley. Engineered for the best ride, the bike delivers the ultimate SoulCycle ride with tap-backs, push-ups, sprints and climbs alongside inspiring instructors, heart-pounding playlists and magnetic class energy. Mom can now be transported to the front row of the class, without being embarrassed, to take part in live and on-demand classes all powered by the Equinox+ app. This luxe at-home bike is the ideal Mother's Day gift this year for anyone missing their workout groove and wants the ease of bringing the studio to any room in their home.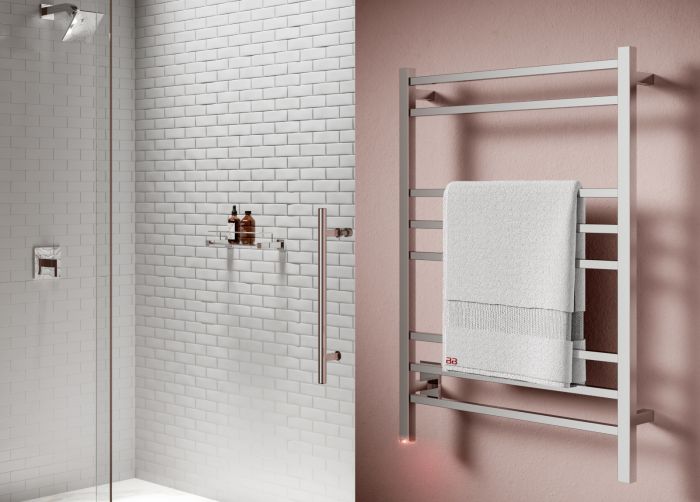 (credit: Bathroom Butler)
Cubic 8 Bar 25′ Heated Towel Rack
A heated towel rack is a great gift that any mom would appreciate as it offers elegant towel storage, creates a designer feature in the bathroom and it is multi-functional. All of their models have been designed to dry towels, keeping them fresh and up to 90% more hygienic between washes (proven by an independent study the company commissioned), with the Cubic 8 Bar 25′ Heated Towel Rack ($1,049) being one of its best-selling models. Available in polished or brushed stainless steel, it has the capacity to dry up to three bath sheets or four bath towels and takes only 10-15minutes to heat up to desired temperature. Its PTSelect controller with rotary dial allows you to adjust the temperature while the WEMO Wi-Fi switch, uses the free app on your mobile device to switch on and off remotely.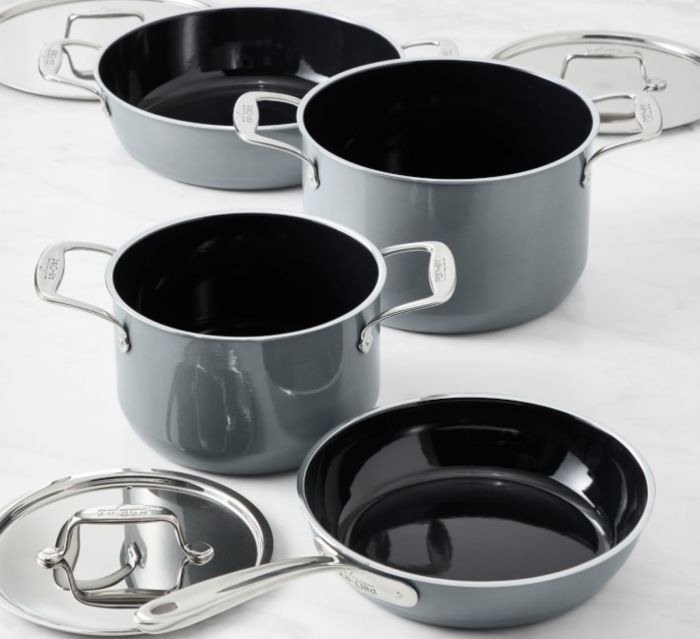 (credit: All-Clad)
All-Clad FUSIONTEC™ Collection
To kick off the 50th Anniversary of the brand, All-Clad introduced a brand-new line of cookware, FUSIONTEC ™, featuring a thick steel core and natural ceramic exterior. Available in three alluring colors Onyx Black, Platinum, and Rose Quartz on all-clad.com and at Williams-Sonoma. Included in the FUSIONTEC ™ collection (the full 7-piece set is priced at $1,295, while individual pieces are $179.95-$299.95) is a 4.5-quart universal pan (with lid), 7-quart stockpot (with lid), 4-quart soup pot (with lid) and 9.5" skillet.  Ideal for the serious home cook who gives her pots and pans a good workout with multiple homemade meals, this set provides the perfect oven-to-table collection. The German-made set features a heavy steel core for even heat distribution for cooking, dripless pouring rims, dishwasher safe, oven and broiler safe to 500°F and its natural ceramic finishes inside and out present a great high-end luxe feel which also resists chips and scratches. 
(credit: Dyson)
Dyson Supersonic™ Hair Dryer
This Mother's Day, Dyson will be offering three special edition gift sets, including the Dyson Supersonic™ hairdryer. Dyson's limited-edition Fuchsia/Nickel colorway with Detangling Comb and Vented Barrel Brush is the perfect beauty investment for every mom. The $399 set includes the hairdryer, a round brush and a comb (a $465 value). Supersonic dries hair quickly while protecting against extreme heat damage, and the set includes the perfect brush for styling. Supersonic features intelligent heat control technology which measures heat settings to prevent extreme heat damage and the machine also comes with a range of styling attachments engineered for all hair types. The futuristic-looking and intelligent hairdryer is available to purchase on dyson.com with free two-day shipping.
(credit: Briggs & Riley)
Limited Edition International Carry-On Expandable Wide-Body Spinner
As people return to being more social in 2021 & traveling, there is no better gift for mom than a new bag. Briggs & Riley's Limited Edition International Carry-On Expandable Wide-Body Spinner ($649.00) is available in a beautiful stark PLUM and is ideal for those who want one bag for international air travel. Durable and designed to last a lifetime – however, should a repair be needed they offer an unconditional lifetime guarantee – the wide-body spinner can expand up to 34% and features a large zip pocket, cinch-down mesh garment panels, a zippered accessory pouch and LARGE ZIP POCKET offering maximum packing capacity while still fitting in the overhead.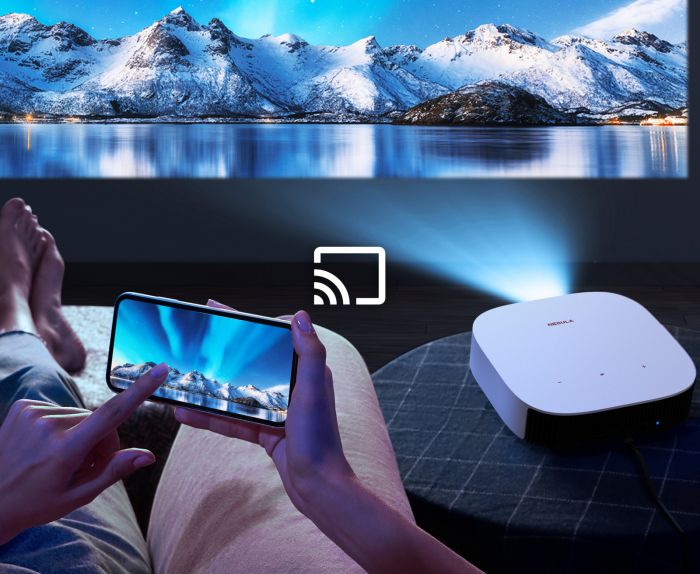 (credit: Nebula)
Solar Portable 1080p Projector
For moms who crave a true home-theater experience, the Solar Portable ($599.99) projects crystal-clear 1080p up to 10'. With Dolby Digital Plus and the dual 3W speakers, mom can now feel like she is at the movies anywhere on the go as the projector gets up to three hours of power on a single charge. The projector's built-in rechargeable battery makes it so mom can get through an epic film or a few episodes of a binge-worthy show through the projector's built-in apps or by mirroring from her phone. It comes with a built-in stand to adjust the angle of projection by up to 13 degrees and is suitable to project on almost any surface with radiant and bright colors in an all-new light with HDR10. The projector is available on us.seenebula.com as well as on Amazon.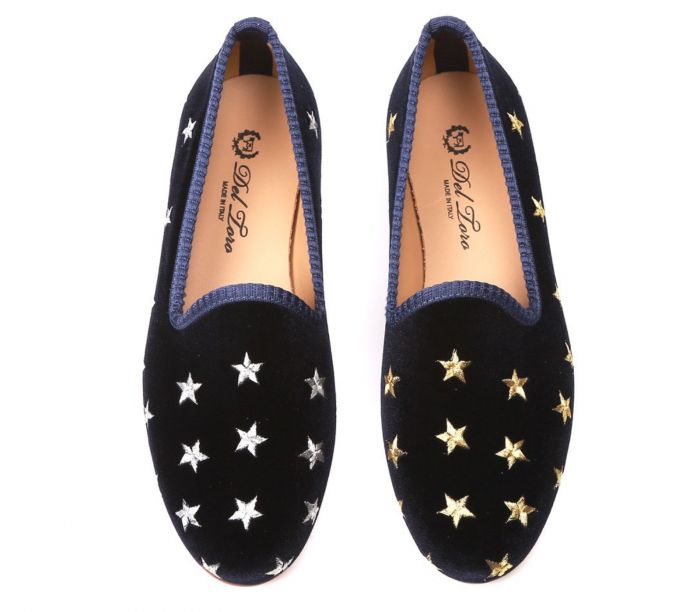 (credit: Courtesy of Del Toro)
Women's Navy Velvet Gold & Silver Star Slipper
Special for Mother's Day, Del Toro Shoes is allowing purchasers to customize any of their women's styles. Their bestselling navy velvet slipper has been given a stylish upgrade with gold and silver embroidered stars which add some star power to any outfit. Perfect to match for a casual pair of pants on a lunch outing or for a shopping spree, the Women's Navy Velvet Gold & Silver Star Slipper ($365.00) has gold embroidery on the left side with silver embroidery on the right side. Handmade in Italy, the renowned luxury footwear brand is inspired by the rich heritage and timeless style of the Italian velvet slipper and this is shown through the signature red grosgrain heel stripe, leather sole and lining and natural stacked wooden heel of this slipper.
(credit: Toccin)
Flutter Sleeve Dress in Sand
Designed to provide seamless options that are versatile, comfortable, flattering and size inclusive, Toccin New York was launched in 2019. Fitting perfectly into their collection of approachable fashion, the Flutter Sleeve Dress in Sand ($445) is truly seamless for any occasion. Great for mom to wear during meetings to evening outings and everywhere in between, this relaxed-fit dress features a flutter sleeve and V-neck. Made from their signature modern stretch fabric which offers universally flattering fits and comfort, the dress offers side slits and an exposed zipper for a bold and strong style balanced with its flouncy feminine subtle flutter sleeve.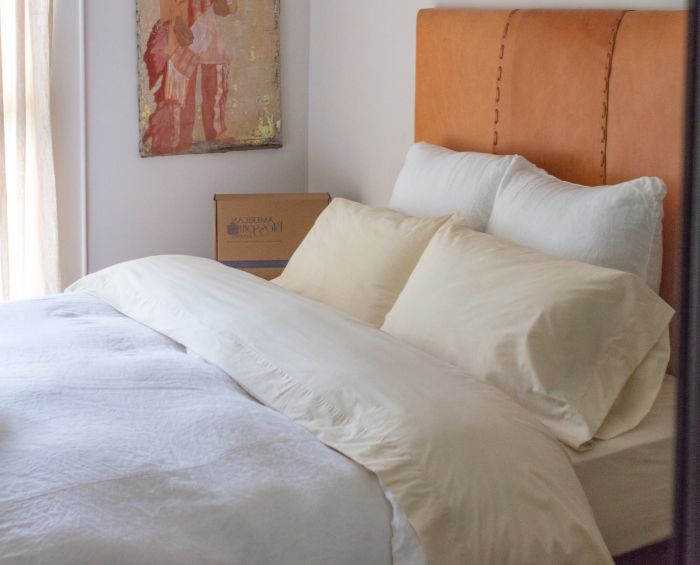 (credit: American Blossom Linens)
Classic American Made Organic Cotton Sheets
American Blossom Linens is looking to bring its brand of luxury bedding to homes across the world. The family business has been supplying their high-quality bedding to luxury hotels around the world since 1899 and is excited to offer their Classic American Made Organic Cotton Sheets ($299.00) to every mom. This new brand of bedding is made with 100% West Texas American organic cotton and will help spoil moms with a fully rested good night's sleep. The only brand of bedding made completely in the USA (from grown to sewn), gets softer with every wash and is woven to last a lifetime. Available in white or natural color, each king set comes with a flat sheet, fitted sheet (with helpful 'Top or Bottom' labels, which act as visual cues to help you place the fitted sheet) and four king-size pillowcases.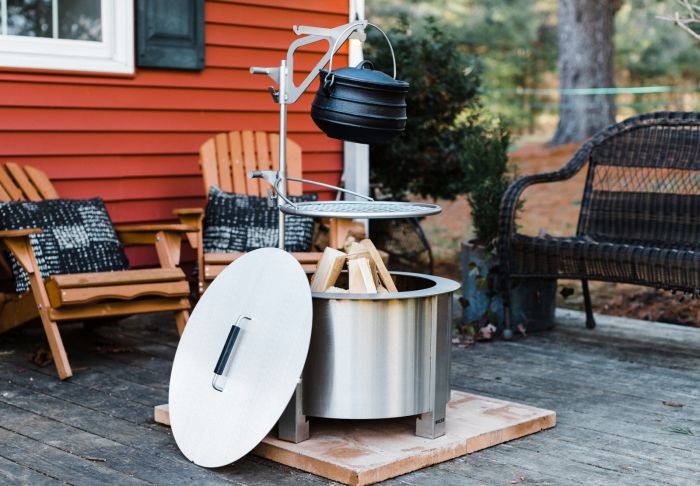 (credit: Breeo)
X-Series Smokeless Fire Pit
For all moms who love to spend quality time with family outdoors, and can do without the mess, Breeo presents the world's first customizable smokeless fire pit. The X-Series is available in two sizes 19" (prices start at $279) and 24" (prices start at $479), each presenting a simple way to add practicality and style while improving the outdoor entertainment experience. Weighing only 62lbs and 74lbs respectively, select either sleek stainless steel or rugged patina finish and the addition of a Sear Plate™, which adds an easy surface for cooking up a fireside meal or the attachable Outpost Grill, an over-fire grill grate which allows for even more campfire cooking options. Its X Airflow technology burns its own smoke so you have more flame, better food and fewer tears. To up mom's outdoor cooking game, opt for the Firemaster Package (starting at $675) which includes all of the accessories needed for taking a backyard dinner to the next level.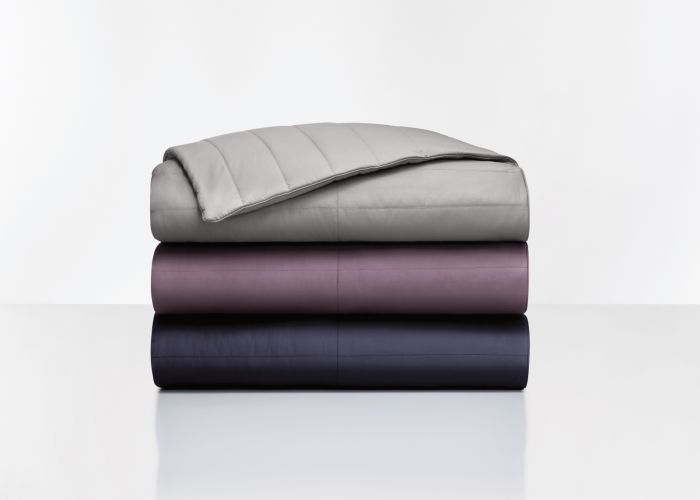 (credit: Sleep Number)
True Temp Weighted Blanket
Part of Sleep Number's True Temp collection, the True Temp Weighted Blanket ($199.99) is perfect for the mom who wants to cozy up after a long day. Not only does this blanket feature deep pressure stimulation which reduces stress and promotes feelings of calm and relaxation, but it is also unlike other weighted blankets as it is made with temperature balancing 37.5 technology (made from volcanic sand particles), which continually adapts temperature to keep you comfortable. Available either as 12lb or 20lb (Sleep Number suggests choosing the weight that's closest to 10% of your body weight) the inside fills in place so it's evenly distributed even as you move/shift positions.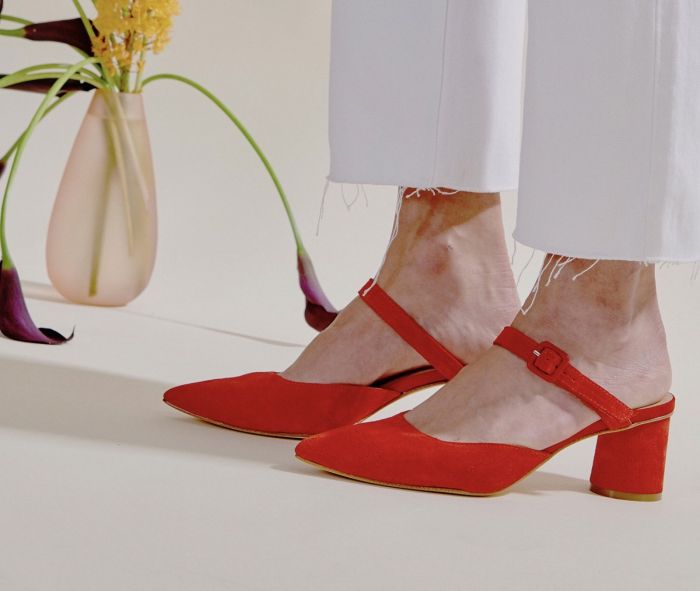 (credit: Ma'am Shoes)
Ruth heels
Luxury LA-based sustainable footwear brand called Ma'am Shoes burst into the market in 2020 with their chic, luxurious sandals and heels that are ethically and sustainably manufactured in Los Angeles. Designed to last season after season, the Ruth ($300) is a timeless pair of heels that maximizes style and comfort for a full day on your feet. Made of soft Italian suede and crocodile-embossed leather fabrication with an adjustable strap to accommodate most foot widths, the Ruth comes in five unique colorways emulating quintessential LA style. Perfect for spring and to add to mom's seasonal wardrobe, the two-inch cylinder heels will keep mom – and everyone walking by – on their toes with its elegant and chic shape.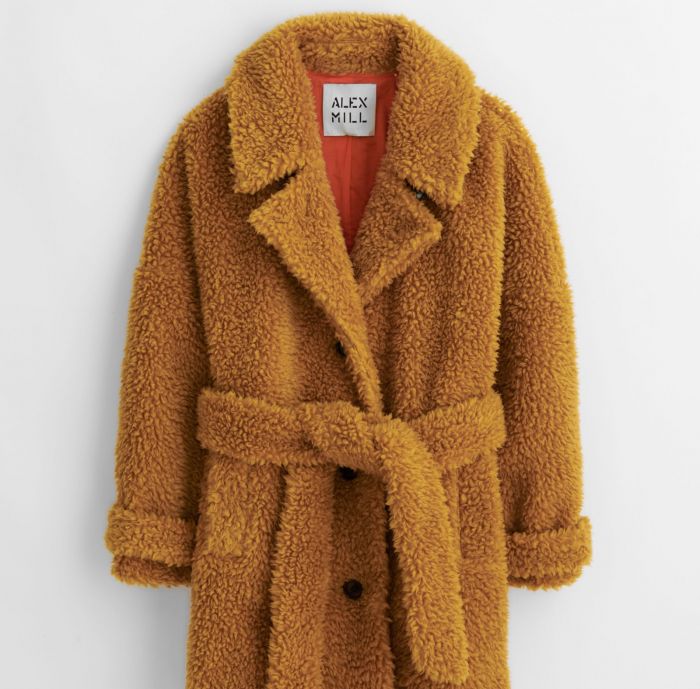 (credit: Courtesy of Alex Mill)
Sherpa Peacoat
With a roomy-enough fit to slip over sweaters and blazers, the Sherpa Peacoat ($350) is great for mom to wear any season. Made from 100% recycled polyester, the coat's light brown color matches perfectly with its interior red lining and hits mid-thigh. Perfect to match with jeans when out on a brisk day or over a dress for a night out-on-the-town, the peacoat features three buttons, pockets on each side and a removable belt. Staying true to Alex Mill's timeless, not trendy mantra, this peacoat builds on the classic design and presents an iconic jacket where mom can wake up and throw it on over her clothes and not think about never going out of style.  
(credit: Tria Beauty)
Hair Removal Laser 4X Deluxe Kit
For moms who don't have the time to go to the clinic for regular laser hair removal, the Hair Removal Laser 4X Deluxe Kit ($479.00) from Tria allows them to own perform laser hair removal treatments at home. Using the same diode laser technology that is used in dermatologist's offices and laser hair removal clinics, the Hair Removal Laser 4X is the only FDA-cleared at-home hair removal laser, and delivers three times more hair eliminating energy than any other at-home hair removal device. Say farewell to unwanted hair as the rechargeable, cordless device features an LED screen that shows the: treatment level, battery indicator and pulse counter. Available in fuchsia and green, the most powerful at-home hair removal solution comes with the Hydrating Calm Soothing Gel to use pre and post-treatments.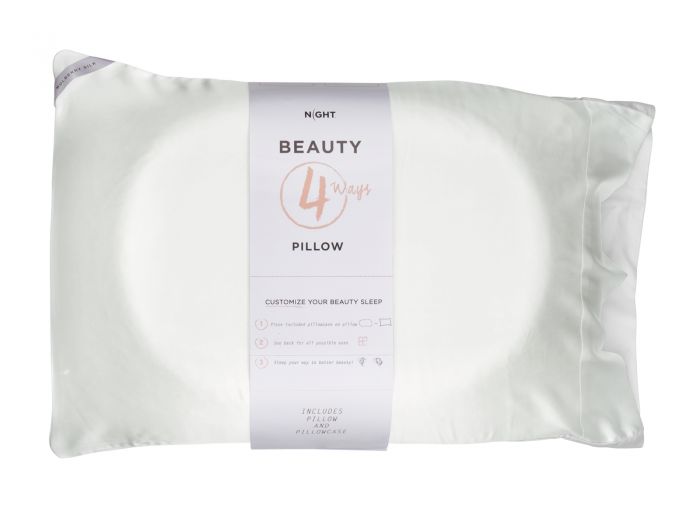 (credit: NIGHT)
Beauty Pillow- 4 Ways
No matter your sleep or skin type, the Beauty Pillow- 4 Ways ($265.00) allows moms to create a completely custom beauty sleep experience. Its Airlight™ memory foam core provides proven support with fluffy comfort and is designed with two unique sides to provide the optimal combination of support and comfort for every sleep position. The included reversible skin balancing pillowcase, which is machine washable, has one side made of mulberry silk, ideal for nourishing dry skin and the other is from rayon, ideal for wicking excess oil off oily. Available in queen and king sizes with a 101 night sleep no-strings-attached trial, each size features a traditional side which is ideal for stomach sleepers and a contour side to promote spinal alignment for side/back sleepers.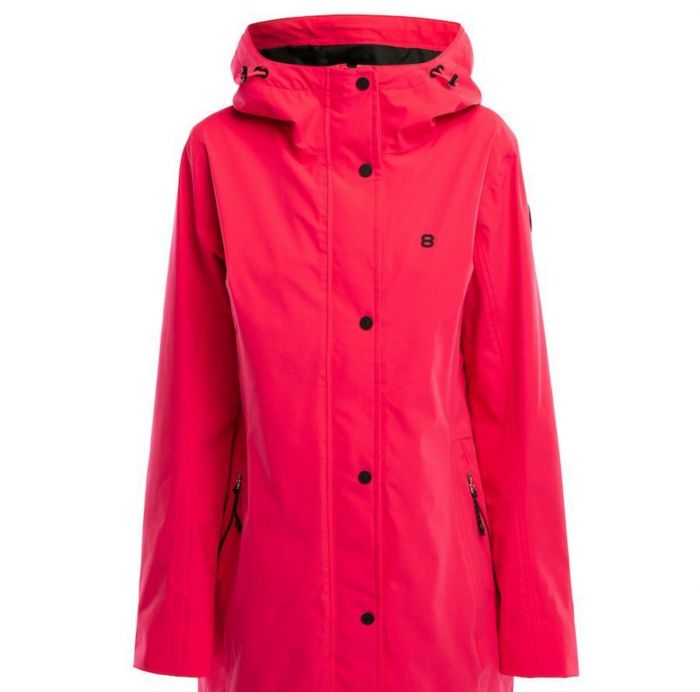 (credit: Aktiv)
Scarlett Coat Women
Started by a family of four in Oslo, Norway, Aktiv was born by their adventures found in the unknown, with the storied simplicity and practicality of Scandinavia in mind. The Scarlett Coat Women ($150.00) is a long jacket for women that goes above the knee and is available in black and magenta pink. Moms can use this stylish and trendy, long shell jacket for weather up to 55 degrees and be confident that they will also be kept dry thanks to its durAtec Extreme outer material. Beautifully designed with a matte finish, responsibly produced and durable, this jacket will give mom the confidence to look her best even in inclement weather.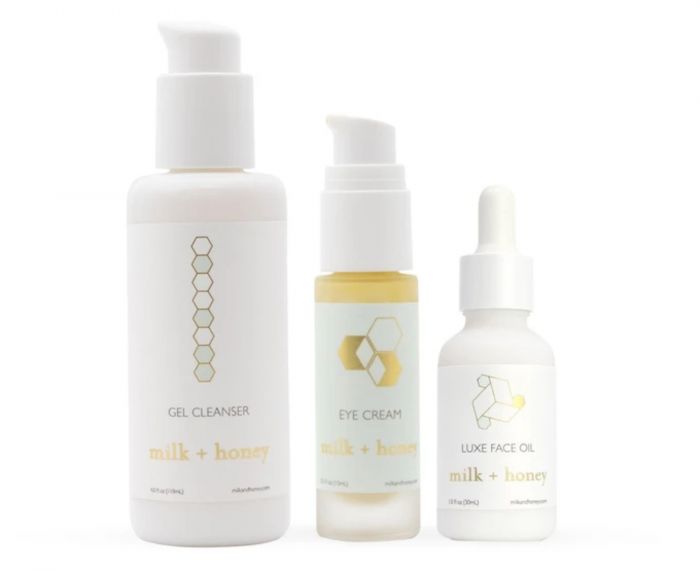 (credit: Milk + Honey)
Milk + Honey's Repair And Restore Bundle
Milk + Honey was launched as a spa in 2006 with a commitment to hyperclean ingredients and has since grown to seven spa locations in Texas and California as well as a line of luxurious, hyperclean bath, body and skincare products. M+H's Repair And Restore Bundle ($180.00) is a great gift to help mom unwind with an at-home spa experience. The Gel Cleanser, Eye Cream and Luxe Face Oil trio will transform her nighttime routine into a soothing skincare ritual so she can get the relaxation she deserves. In promoting health and wealth, all of M+H's products are non-toxic, safe and as organic as possible and use safe preservatives, with no filler ingredients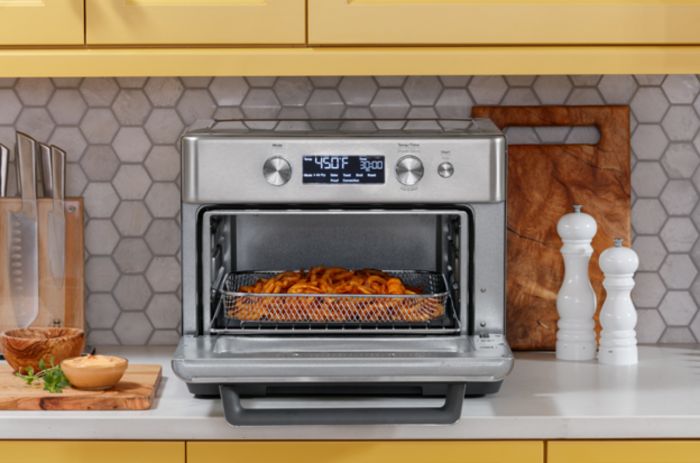 (credit: GE Appliances)
GE Digital Air Fry 8-in-1 Toaster Oven
Moms are a busy bunch and sometimes they need a little help in the kitchen. Luckily, the GE Digital Air Fry 8-in-1 Toaster Oven ($219.00) comes in handy helping mom craft the perfect dishes in a moment's notice. The combination toaster oven features a total of eight cooking functions: air fry, bake, broil, convection, keep warm, proof, roast and toast, ensuring that no dish will be too complicated to make. The surprisingly large cooking space allows mom to make up to a 12" pizza or even a deep-dish casserole and comes with an accessory set which includes a rack, baking pan and air fryer accessories. Mom can now have perfect results and monitor items in real time with its digital display panel which shows the temperature while cooking.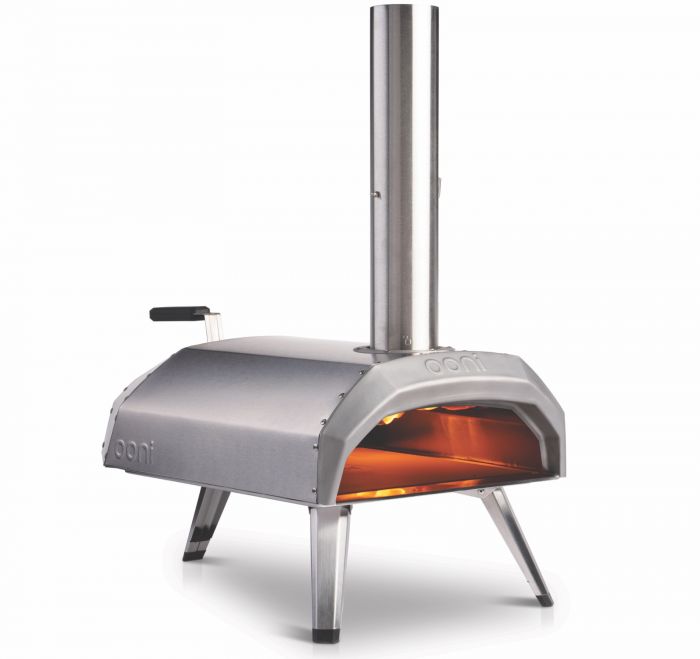 (credit: Ooni)
Ooni Karu 12 Multi-Fuel Pizza Oven
The perfect gift to upgrade your mom's backyard and pizza game is the Ooni Karu 12 Multi-Fuel Pizza Oven ($349.00). The oven reaches 950 degrees, which is the temperature needed for true, Neapolitan-style pizza. Cooking incredible stone-baked fresh pizza in as little as 60 seconds it can be cooked with wood or charcoal right out of the box, or with gas with the Ooni Gas Burner ($89.99, sold separately). Bey­ond pizza, the Ooni Karu 12 can roast meats, make fresh bread, grill fish or veggies, and more. All Ooni products come with a one-year warranty as standard (can extend to a three-year when registered online) and there is a 60 day buy-back 'Great Pizza Guarantee' when you purchase directly via Ooni.com.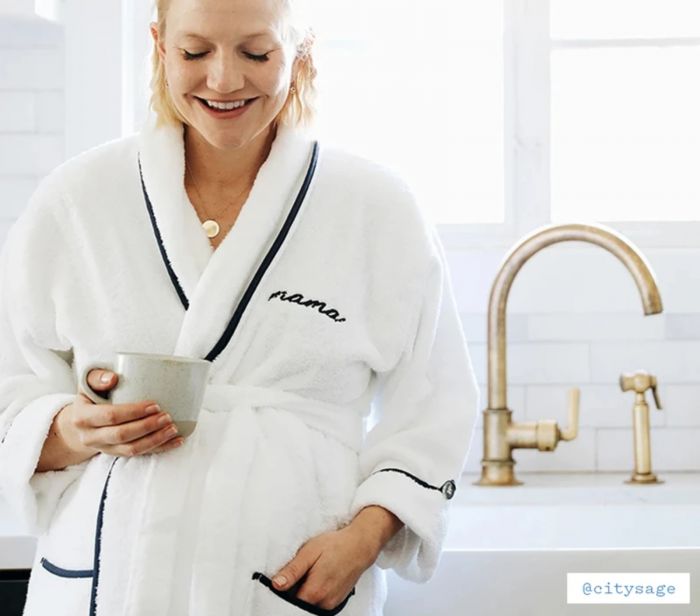 (credit: @citysage)
Weezie Women's Long Robe
Weezie offers a selection of soft, fluffy and absorbent items, and none plusher than their Women's Long Robe ($175). Available in six patterns or in soft white terry with colored piping, the robe is the perfect robe for cozying up nice and staying warm. Made using 100% organic long-staple cotton, sourcing from a third-generation owned factory in Portugal, Weezie's collection is hypoallergenic, low linting and OEKO-TEX certified. Featuring piped edges, a slim shawl collar, sleeves that button up to keep dry and an attached tie that won't get lost, you can personalize it for mom with a variety of embroidery and monogram options (prices start at $15). Presenting a more tailored fit than the men's robes, the fit is cozy and lighter fit, so you feel wrapped up but not weighed down.