This Dye Free Pink Pancake recipe is perfect for Valentine's Day, and any other time you want a special breakfast. You won't believe how it turns between you, just by adding beets! Coloring your food with vegetables instead of fake coloring is the best way for your family! Plus, you just can't taste beets, I mean … really!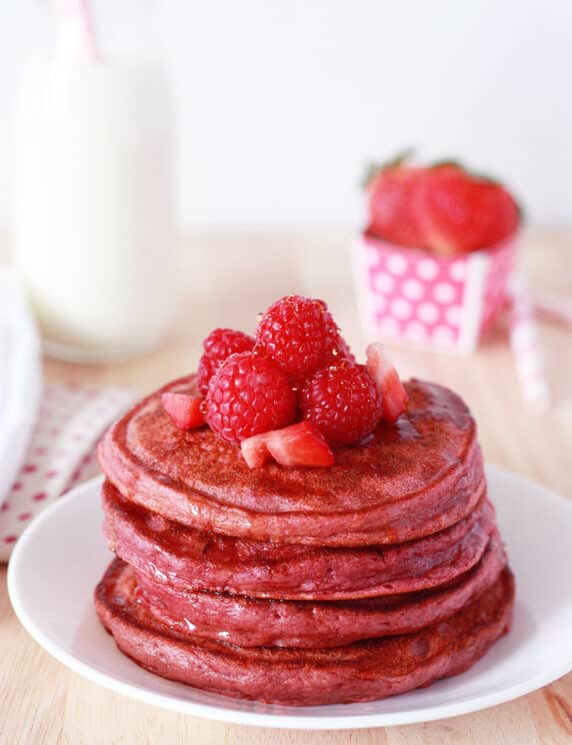 Dye-free food coloring
Kids love fun, colorful foods. We love to color our food on different holidays – green for St Patrick's Day, pink for Valentine's Day, red or green for Christmas – it's so fun having a reason to make our food fun! Instead of adding artificial colors and dyes, we like to color our food with natural colors from foods that are actually brightly colored! Beets have one of the deepest and brightest colors and can turn any food pink! We love adding them to pies because they turn incredibly pink!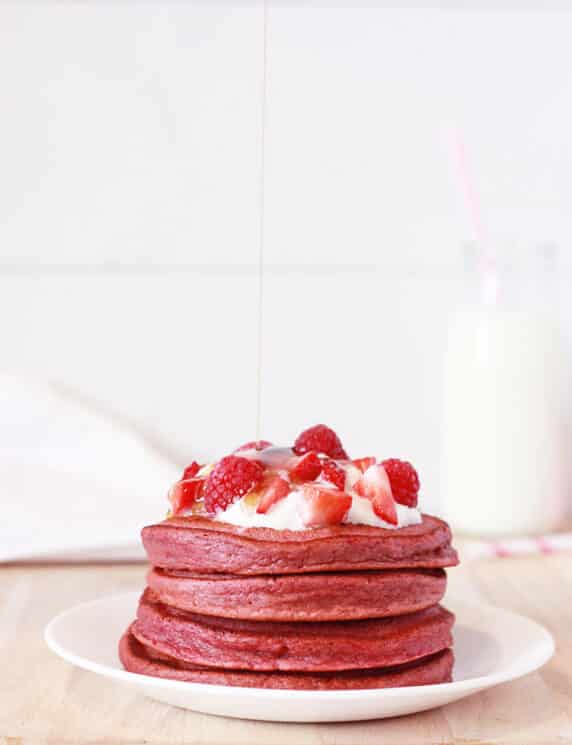 Why are beets good for you?
These totally pink muffins contain a lot of nutrients. Beets are high in antioxidants as evidenced by their deep color. They are also a great source of folate and other micronutrients that have been shown to work as anti-inflammatory compounds. If you like adding vegetables to your breakfast and the nutrients that come with it, these are the perfect pies for you!
How to make beetroot puree
Making beet puree is much easier than I thought. Wrap the beets in tin foil. Cook at 400 degrees for an hour and a half (as you would with potatoes). I did this the night before because I wanted to make pancakes, then let the beets cool overnight. In the morning I came back, unwrapped, peeled (the skin slipped right away), and sliced. Place the slides in a Food processor Or a blender and puree until smooth. You can add a teaspoon or so of water so that it mixes better if you need to.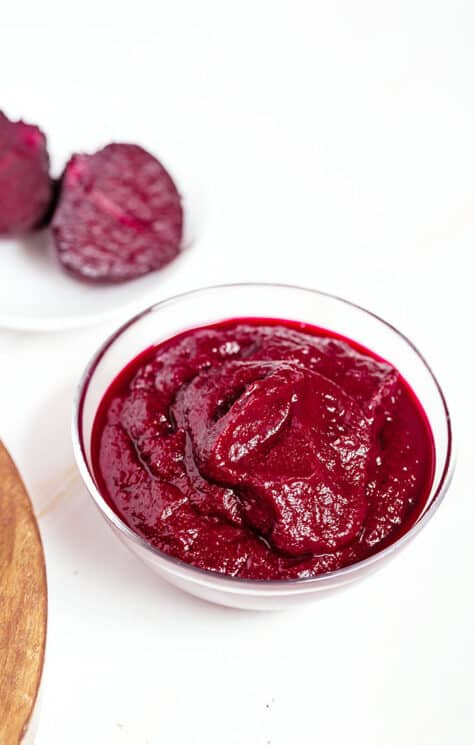 How to make dye-free pink pancakes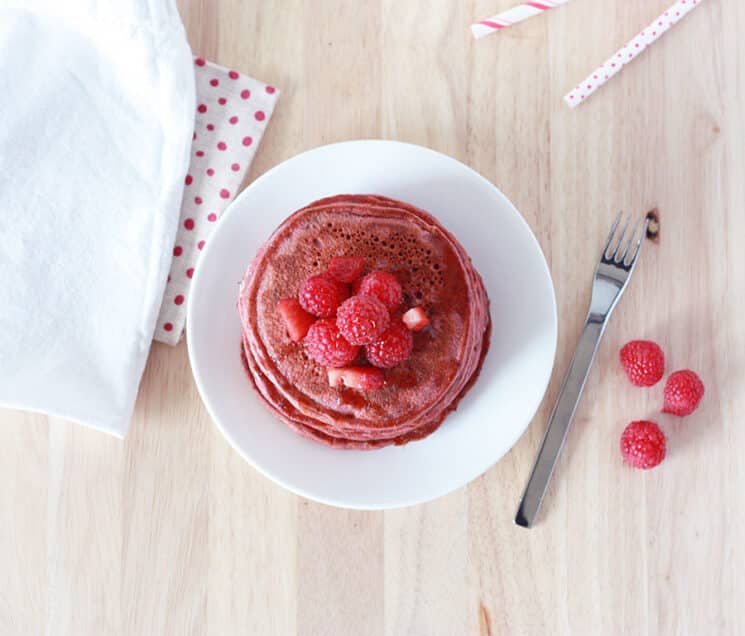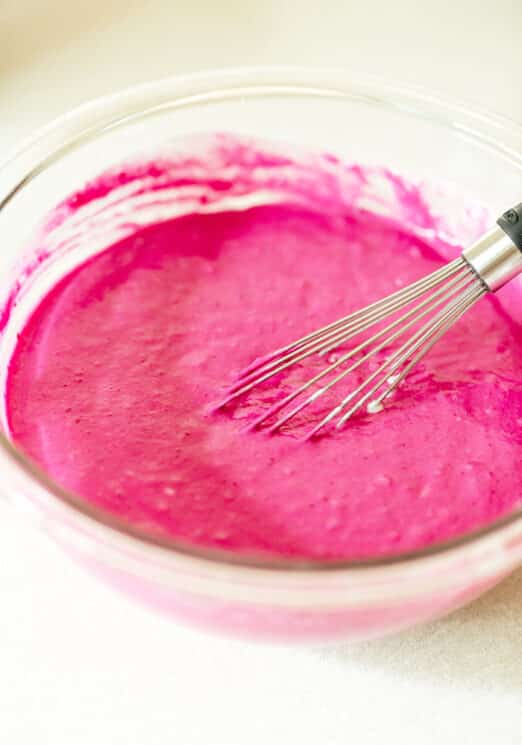 We like to use it to make pies This recipe is homemade. Then add 1/3 cup of beet puree, plus a little extra liquid to make the mixture more liquid.
Pour the pancakes on prof Hot tray-Using about 1/4 cup of the batter per pie to make a nice large pie. If you like mini pies, just use a few tablespoons per pie. The smaller the pie you make, the browner and more pink!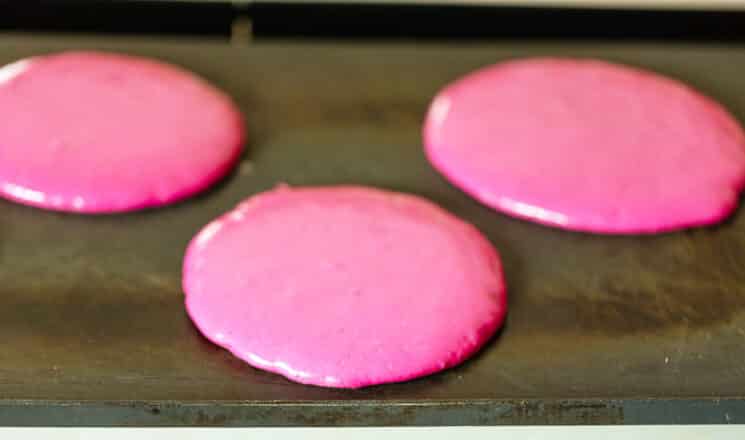 Serve with fresh fruit and delicious drink. If you want to make it more fruity then use this Homemade blueberry syrup.
How to make pink waffles fun for Valentine's Day
If you have young children, it can be fun sometimes to make your food a little too! I poured some pie dough into a squeeze bottle to make small, round pies easily. When they were calm, I inserted them into a toothpick with a heart on one end. They put some yogurt in a cute little bowl and add some Valentine's Day sprinkle. This pink kabobs pie was a hit!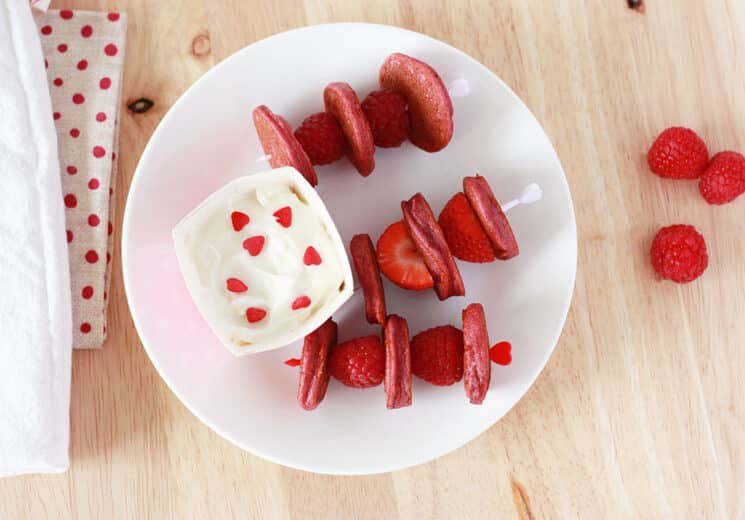 You can also dip it in syrup if your kids prefer it over yogurt. Greek yogurt gives them more protein!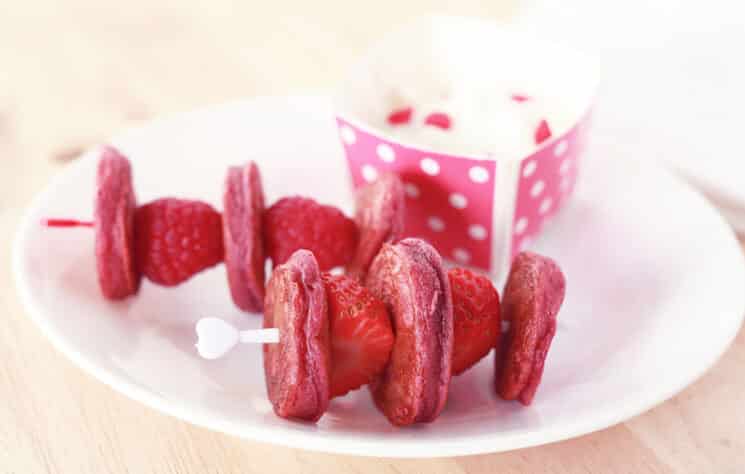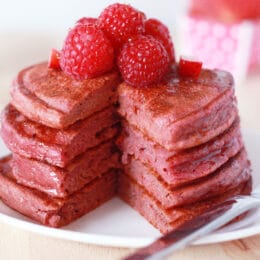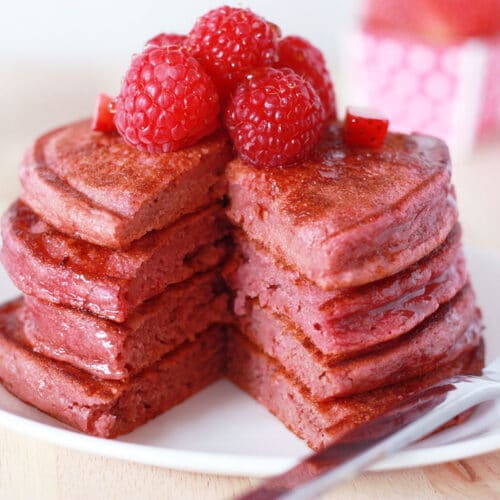 2

Glasses

Flour

4

Teaspoon

baking powder

1/4

Teaspoon

baking soda

1/2

Teaspoon

salt

2

Average

Beets

1 1/2

Glasses

milk

1/4

Glass

Maple syrup

1/4

Glass

Butter melted
Wrap beets in aluminum foil and bake 400 degrees Fahrenheit for 1 1/2 hours. To calm down.

Roll the cooked beets and peel them. The skin should slide right off. Cut it into large chunks.

Place the slices in a food processor or blender with 1 1/2 cups pureed milk until smooth.

In a large bowl, combine flour, baking powder, baking soda, and salt. Add beetroot mixture, maple syrup and melted butter and stir gently until combined.

Drizzle, or use a small amount of oil to grease a tray or skillet.

Pour a small amount of the mixture onto the hot baking tray. The mini pies tend to turn brown less and keep a nice pink color.

Cook until golden on both sides.

Serve with fresh fruit and drink on top.
Calories: 129Calories | Carbohydrates: 27G | protein: 5G | Fat: 1G | sodium: 516Mg | the basic: 1G | sugar: 1G