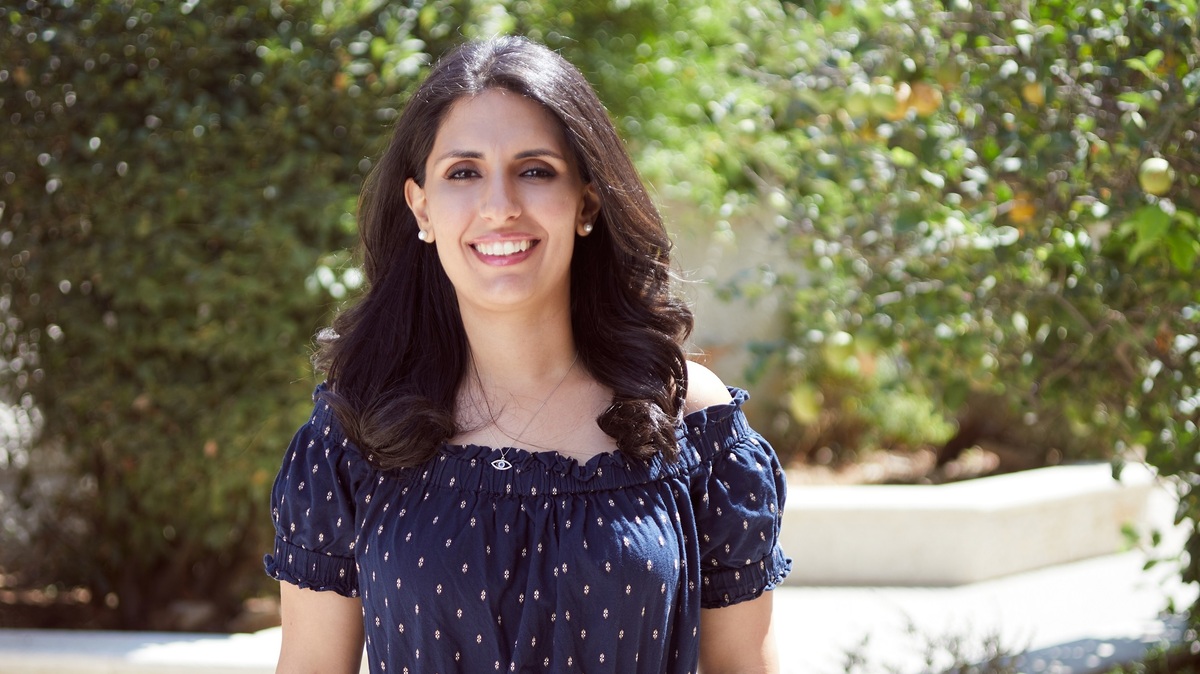 Dan Perez / Phaidon Press
Growing up in East Jerusalem, Palestinian cookbook author Reem Kassis did not expect to enter the food industry. For her, the kitchen was a "life sentence" for the women.
Instead, Kassis moved to the United States when she was 17, where she studied business administration first at the Wharton School of the University of Pennsylvania and then at the London School of Economics. It wasn't until she gave birth to a child that she began to see the kitchen as a "strong place" where she could share important stories about food and culture with her daughter.
"I started putting together my family's recipes and stories together, almost as a way for them to get a piece of home wherever they end up in the world," Kassis says. "But once I did and started seeing all those pieces come together, I realized, yeah, these are my family's recipes, these are my family's stories, but if they were put together, it could be the story of any Palestinian family."
Kassis says that many foods considered Middle Eastern or Israeli actually originated as Palestinian dishes. Her first cookbook, The Palestinian Table Chronicle of Palestinian food – along with some of its personal history. In her new book, Arabesque table Kassis expands the focus on culinary history across cultures in the Arab world.
Interview highlights
About her identity as a Palestinian political in nature
It's funny because all it takes is for me to use the word "Palestinian" and whatever I want to talk about – regardless of its distance from politics – is suddenly political. But at the same time … as Palestinians, as a people living under occupation, fighting for justice, it is difficult to separate this reality from anything else we do. Everyone deals with it differently. I am in the world of food and writing, and this is how I try to address or deal with this issue, from this angle. And another person in a different field might deal with it from a different angle. … it could be a landmine, but it shouldn't be. … food is the lowest common denominator we all have. … no matter where you are, your religion or your beliefs, you have to eat. But do I think food can bring people together? I think that's a stretch.
On the controversy over the origin of chickpeas
The hummus itself is so controversial abroad because just a few decades ago, nobody knew what it was. When my husband was taking her to school, people would mock him for eating this beige paste. Now, all of a sudden, since the late 1980s, he's become more popular and is known abroad as Israeli. And I think that's where the controversy occurs. …
This is an Arabic dish in nature, and it is marketed abroad as Israeli – without any mention of those origins. … when I'm here and I see that something that I know is an important part of my culinary identity is being taken over as an Israeli, it feels like it's adding insult to the wound and deliberately saying that I don't exist, that I don't have a past, that I wasn't there or a part of history. I've said this before, it's not about the hummus itself, it's not about the dish, it's more about what this omission means for people like me who are Palestinians, who see our history being totally ignored and being overlooked abroad.
On Arabic bread
Dan Perez / Phaidon Press
I have also always assumed that it originated from the Ashkenazi communities of Eastern Europe. After that, I began to conduct research for this book … Part of the research included searching in ancient Arab cookbooks in the Middle Ages. I turn one over from the thirteenth century, and there in a chapter on bread, I see a section on cakes, which is ring-shaped dough that Arabs have been making for centuries. And I'm reading, and there it says, "Take this dough in a ring shape, put it on a stake, boil it in water and bake it." And this is basically what bread is today.
So once you start digging deeper, you'll realize that bread can be traced back, and that's what a lot of Jewish researchers have done, tracing it back to Poland in the 16th century. But in Poland they date back to their royal family to the thirteenth century. Then when you look, whoever married that royal family, was a woman who came from Bari, Italy, and Bari, Italy, in the Middle Ages … [a] The stronghold of the Islamic Empire, and from there the cuisine of Europe was heavily influenced by the Arab merchants and the conquest of that region. So you start to see how the bread, in its original form, was traveling through the world. Then you also see very similar versions of it in China as trade routes have gone too. Then I realized that the thing that binds all of these was their root in those Arabic cookbooks, the fact of boiling a piece of dough before baking it.
About what inspired her to start cooking Arabic dishes since her childhood
I often think you take things for granted as a kid – and you definitely did with my mom's cooking. My daughters do the same with my daughters. But once I left and arrived in the United States, I felt some culture shock. Part of it was seeing how I eat on my own in the dining halls. There is no such familial feeling that everyone is eating together and then the same food. I began to crave it. I missed that. Not only did I miss the flavor and the flavor, I also missed the whole feeling around her. And that's when I really started messing around with cooking, and I was calling my mom and asking her for recipes. So it started simple.
I remember the first dish I wanted to make was the maqlouba, which was the upside-down dish of rice and vegetables. I think I called her maybe 15 times in a couple of hours, [and] She said at one point, "It's cheaper for me to fly and cook it for you than to keep answering your questions about how to make it!" But I remember taking it then, and somehow it gave me a sense of satisfaction being closer to home. And even if only for a little while, the nostalgia I felt was satisfied by just eating this dish.
running It will be flavoring
Thyme is an herb in its own right and from the thyme family. What happens here is that when people say thyme, they are referring to spices made from that herb mixed with sumac, sesame and salt. Sometimes people call it thyme, but it is not, in fact, thyme at all. It is much closer to thyme than to thyme. The reason for its misunderstanding is that people probably don't realize it is a real plant. So we make a condiment from this plant, and creatively call it the same name as the plant, but we also use it for other applications. We use it in doughs and in various types of breads and pastries. We also use it to make tea. Of course, it is perhaps the most widely used and recognized spice … mixed with sumac, sesame seeds and salt, and it is likely that it is found on every table in any Palestinian, Syrian, Lebanese, and Jordanian home. This is your goal Breakfast: Dip your pita bread in olive oil and thyme, and you are good to go.
About developing a friendship with Israeli chef Michael Solomonov (known for his Philadelphia restaurant, award-winning Zahav)
The first time I ate in Zahav … [I had] A dish that reminds me a lot of a dish my mom made, Freekeh. And I remember part of feeling good because I ate this home-tasted dish and another part was so frustrated. Why am I eating the best Palestinian dish I have had since coming to the United States in an Israeli restaurant?
And then fast forward 10 years, and I'm writing this book on the one hand, yes, to protect our culture for my daughter's sake and our culinary history, but also partly to show the world that this is our food that we have been eating for generations before Israel became a state. And so when my book came out, I sent Mike [Solomonov] A copy of the book has a partially handwritten message that says, "This is our food. This is what we were cooking." … and I think he was very touched by that. I wasn't expecting to hear about him when I sent the book, but he reached out and said, "I'm so touched by your book" and wanted to meet for coffee. And we did. I was surprised to realize how many things were lost in translation. You see Mike, and you think he's the face of Israeli cuisine. He must deny the Palestinian origins of his food. It should be anti-Palestinian, and so on and so forth. Once you get to know someone on an individual level, you begin to realize how many misconceptions you may have about that person. This is the beginning of that friendship.
Amy Salett and Tia Chaloner produced and edited the audio for this interview. Bridget Bentz and Molly Seavy-Nesper have adapted it for the web.