It's been a long time (and months in planning!) but my tiny home away from home has gotten a much-needed facelift. From inside and outside!
While you might see a slightly different color scheme and some new design elements, a lot of the improvements have been updates made to the bones and structure of my website so it's optimized, fast, and purrs nicely.
I wanted to specifically point out some of the new features and design changes in case you have questions or haven't noticed yet.
I know change can be difficult, but please know that I made these changes very intentionally and thoughtfully. I promise they really improve to make your life (and mine!) better.
Homepage
On the home page you'll notice that there are a few new features, including a section of Readers' Preferences (which can also be called the most popular recipes) and another section of Favorites. Because, guess what, I have pretty strong opinions about the recipes I can eat for the rest of the recipes I can eat forever. 🙂
The recipes in these sections will change almost every week to update ideas!
And for you, fans of the weekly menu, it's still there below! The only change is to combine Saturday and Sunday into one "weekend" day.
Recipe format
One of the most notable changes is that the recipe card looks a little different! This improvement is carried out one by one to ensure maximum quality control in switching all recipes to the new format.
I have 2,000+ recipes that live here so it will take a hot minute to finish it, but you'll start seeing a new recipe format when you update it.
old fashion:
new style: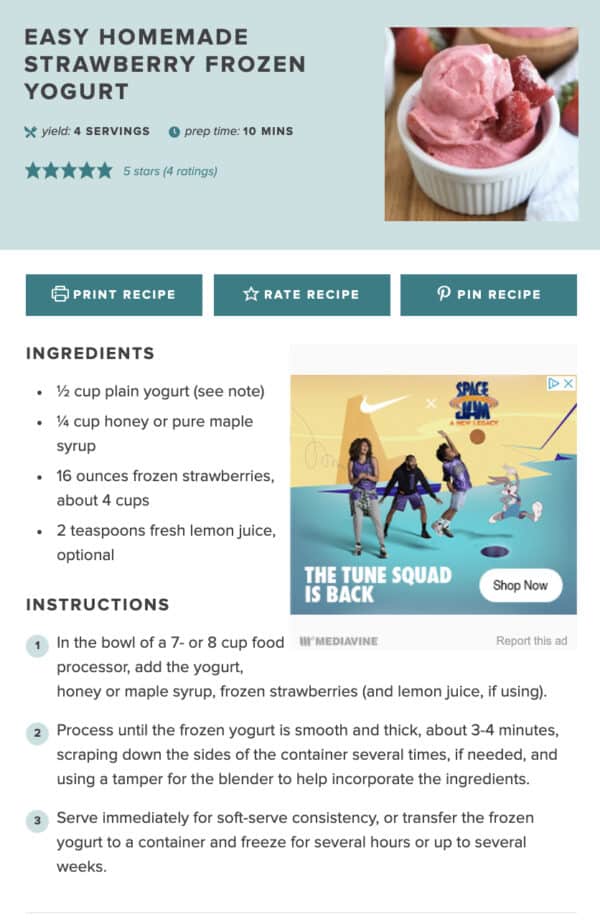 Again, not all recipes are in the new format yet, but they will be available soon (ish). All the same features are still available plus some new features!
(If you are looking for the Save to Prepear button in the new format, it will be added today!)
Nutrition Facts
After hundreds of you asked (begged, begged, and threatened), I finally relented and added nutritional facts to my new recipe formula.
I never planned to include nutrition facts, because even the best nutrition calculator can be a bit off, and I'm a big believer and proponent of intuitive eating versus calorie counting, so I don't look at nutrition facts myself.
However, I know many of you rely on them for carb counting (shout out to all the type 1 diabetes families out there!) and many of you keep track of the nutritional facts for your meals.
So consider this my gift to you. 🙂
I won't lie, it hurts me to add nutritional facts to recipes like muffins, but I'll take a deep breath and hope no one writes me I hate mail because they found out via my blog that donuts don't really exist healthy food and they feel like their whole life is a lie.
*If you don't see the Nutrition Facts in the recipe yet, it's because this recipe still needs to be converted to the new form. I work as hard as I can to get it done!
Photo printing
I get that, for example, only 3 1/2 of us still print recipes in this day and age (I'm an outside printer with tricky recipes), but for our awesome printing community, you can now decide if you want to print the photo recipe or not. No.
This has been a much needed feature for a long time, and I'm excited to roll it out!
Weight scales
I've included ounce weight scales in all of my baking recipes for several years, but many older recipes don't have weight scales.
Using weight scales and a kitchen scale is a great way to up your baking game in the kitchen! Plus, recipes help to be more foolproof since many of us measure flour, sugar, etc. differently when using a measuring cup.
As I convert all my recipes to a new format, I will be adding weight scales to all my baking recipes – Even old people languishing in dungeons cobwebs in the archives.
In the past, I've used OUNCES for all weight scales in my recipes. I mostly did this because I was so impressed with American Test Kitchen when I first started blogging, and they use ounces instead of grams. However, I've received lots and lots of confusing questions over the years when readers see things like: 1 cup of flour = 5 ounces.
Many people associate 1 cup = 8 ounces, which is true if we're talking fluid ounce. But one cup can equal a lot of different weight measurements depending on the ingredient.
To help clear up any confusion, I convert all my weight measurements to grams, It is a more accurate and widely accepted method for weighing components. And of course, I'll continue to use cup measurements as well.
I know this might cause some of you to panic. Those of you, like me, who are used to setting your kitchen scale to an ounce. But I promise you, in the long run, this is the best way. Thank you for your patience as I bring this up!
Reviews
I've said this before, but it's worth saying again: It means a lot to me when you take the time to leave an honest and unsolicited review on any recipe on the site.
These reviews help me continue this endeavour of food blogging (and as I create and test many other recipes), but they also help give my recipes a reputation, and they help my content show up in Google searches.
So thank you to all of you who left ratings and reviews. I appreciate every single one of them! (Yes, even those who say in a kind and constructive way why they didn't enjoy any recipe for whatever reason.)
In the new recipe format, there are several ways to leave a rating or review. Rating is just choosing how much a star without leaving a comment. The review is a star rating + comment.
1) Under the title of the recipe, You can specify a number of stars to rate the recipe (without leaving a review – although if you select three stars or less, it will automatically ask you to leave a review so I can learn from the valuable comments!).
2) At the top of the comment thread, you can leave a comment And Select a number of stars to rate the recipe there. Or you can leave a comment without choosing a star rating.
research
I'm still working on improving the search functionality to return the most relevant results, but for now the best results will appear as you type your search criteria and wait for the dropdown box to load.
This is enabled on mobile and desktop.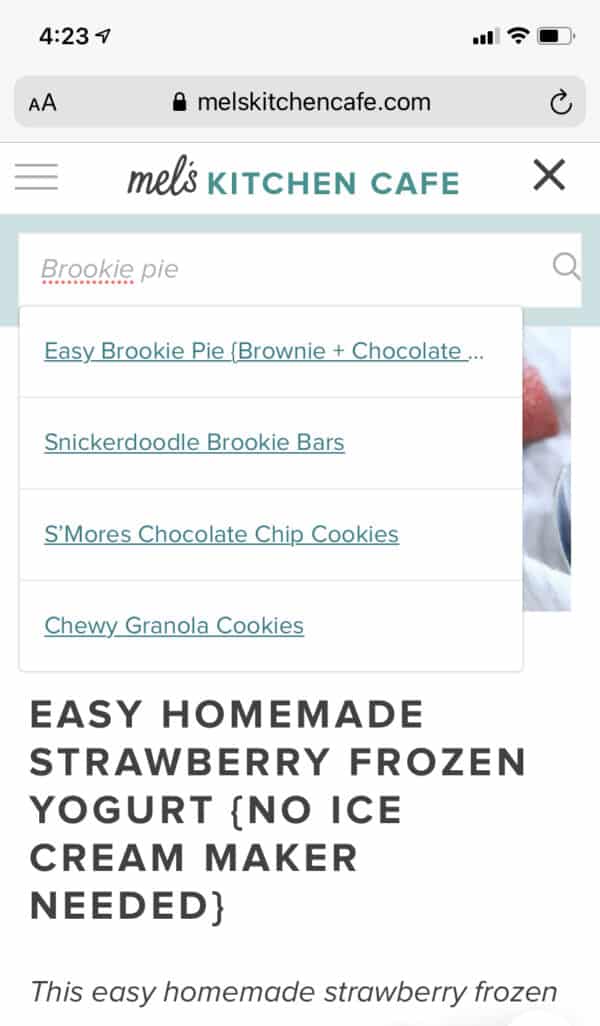 Some last notes
There are a few other design changes that are kind of fun: keep an eye out for What do you offer with this fund? On the main course functions as well Cute question and answer boxes To answer the most frequently asked questions (and save time reading through the comment thread).
Thank you for your patience as I continue to update the recipes and make some remaining changes!
One quick note about ads: Guys, I know the ads are annoying. I don't like them very much either. But advertising is a kind of necessary evil because it is the source of income that pays my bills and allows me to continue to give you my best tried and true recipes.
Since my blog has grown massively in traffic over the past decade+, it has turned into a full-time business, and requires a lot of behind-the-scenes work to keep it up and running.
I think long and hard about ad placement and the amount of ads that appear. There is no magic formula. And I know many of you feel like making different decisions if you're in my shoes.
But please take a moment to think carefully as you judge or direct criticism. All parts of the blogging puzzle add up to an insane amount of work and costs associated with web hosting, design, contract staff, audits, plugins, and more. I only show about 1/2 of the ads available to me in order to keep the user experience somewhat positive.
With this redesign, I'm tweaking a few things as per the ads (and trying to get rid of some of the problematic ads that popped up – sorry about that; thanks for those of you who brought them to my attention).
Well I guess that's it!!
I appreciate your kindness, loyalty and patience! I'm excited about these changes to the website and I hope you are too! Thanks for being here guys.